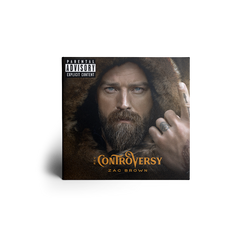 The Controversy CD - Original Print
Order your original print CD copy of The Controversy today!
About the Album:
The Controversy, Zac Brown's first-ever solo album featuring his signature dynamic artistic range and unique pop melodies. The Controversy, is independently released on all digital platforms by Home Grown Music, part of Zac Brown Collective.
The Controversy features a number of collaborators (Skrillex, Poo Bear, Benny Blanco, and more) to create a unique album that explores the dynamics of the broad genre of pop music. 
Format: Compact Disc